'REFLECTED CYCLISTS'  is the unique black and white picture that i took a few years ago in Auckland , New Zealand. I am very proud of this image because it won me a Nomination Prize in the prestigious  ' Black And White Spider Awards 2013. ' These are the leading international awards honoring monochrome photography otherwise known as the 'Oscars' of the Black and White photographic world.
I captured this beautifully artistic photograph during a trip to New Zealand.
 I was watching the World Triathlon Championships which were taking place in the middle of Auckland city. The Kiwis are absolutely crazy about triathlon and there were thousands of spectators watching this exciting event unfold in terrible weather conditions. High winds and driving rain gave the athletes an added challenge to an already gruelling event. All the roads in downtown Auckland had been closed so that the cycle stage of the race could take place. The competitors showed great courage and determination as usual and had to be extra careful on the slippery wet roads.
As i watched the cyclists race past me i noticed a large puddle in the road that showed the reflection and silhouette of the athletes. I thought it might make for an interesting and somewhat abstract picture if i could get my timing right. From years of practise my panning technique and my reactions are very good so i was confident that i could get an image where the cyclists would be central inside the relatively small puddle of rain water that was in the road. After several attempts i looked at my camera's monitor and felt happy that i had got a decent picture. As is always the case you never really know how good or bad the shot is until you see it up on your computer screen. I also know from experience that if it looks half good on the small camera monitor it will look great on the big screen.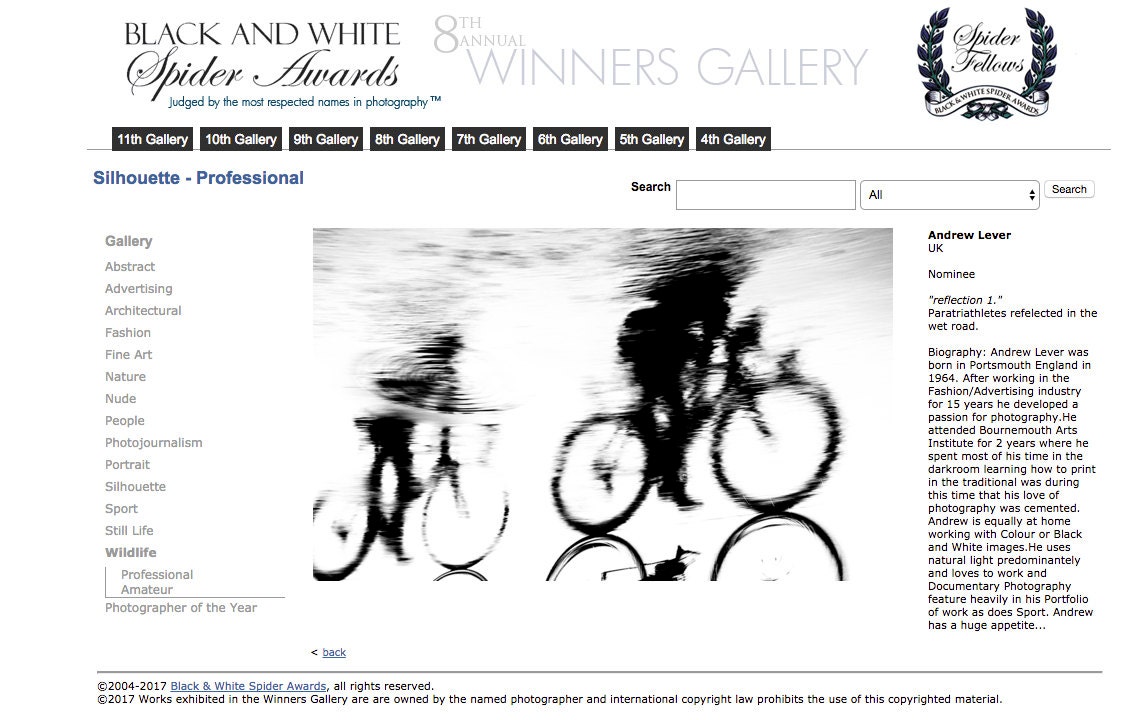 The next day i was editing the pictures from the triathlon and was delighted with one particular photograph. It stood out for being so unusual. We can't see the faces of the men on the bikes and the silhouetted reflection in the water makes it seem even more mysterious. For me though the ripple of water in front of the rear cyclists head makes the picture special. Sometimes the best images are the ones that show us the least and make us see things in a different way. Most travel and sport photography that we see is very similar. I always strive to do something different because i do hate to take boring pictures !
This award winning image is one of my best sellers and can be purchased in various sizes as a limited edition print from my black and white gallery in my shop here.