I consider myself very lucky to live about half an hours drive from 'Durdle Door'. This incredible rock formation is located along the Jurassic coastline of Dorset in the UK. It is a famous Unesco World Heritage site that is visited by thousands of tourists from all over the world. That is why i cannot workout why i had only photographed it for the first time only three months ago ?! My brother had asked me if i sold any prints of the local area around Dorset as he was moving in to a new home in that area and wanted something special to put on his wall. I had to tell him that in fact i had not got anything like that. 
I had travelled to many parts of the world but had to admit to myself that i had ignored my own backyard which has some of the most beautiful and rugged looking coastline on the planet. In fact many a movie or TV series has been shot at these wonderful and picturesque looking locations. 'Far From The Madding crowd'  Brad Pitts ' Worlds War Z' and the BBC series 'Broadchurch' were all filmed along Dorset's magnificant coastline. With renewed enthusiasm i set out to start photographing some of these coastal areas. I had a look at what had been done by other photographers. I did not want to repeat what had been done before and decided just to go with an open mind and follow my instincts as i go along which is how i have always worked. 
At the end of March i took my camera and tripod down to to 'Durdle Door'. To actually reach the beach where this famous rocky arch is you have to negotiate quite a long and steep pathway which in itself is tricky. I always travel light with the minimum amount of equipment because in the past i have been annoyed with the weight of some of gear i have carried.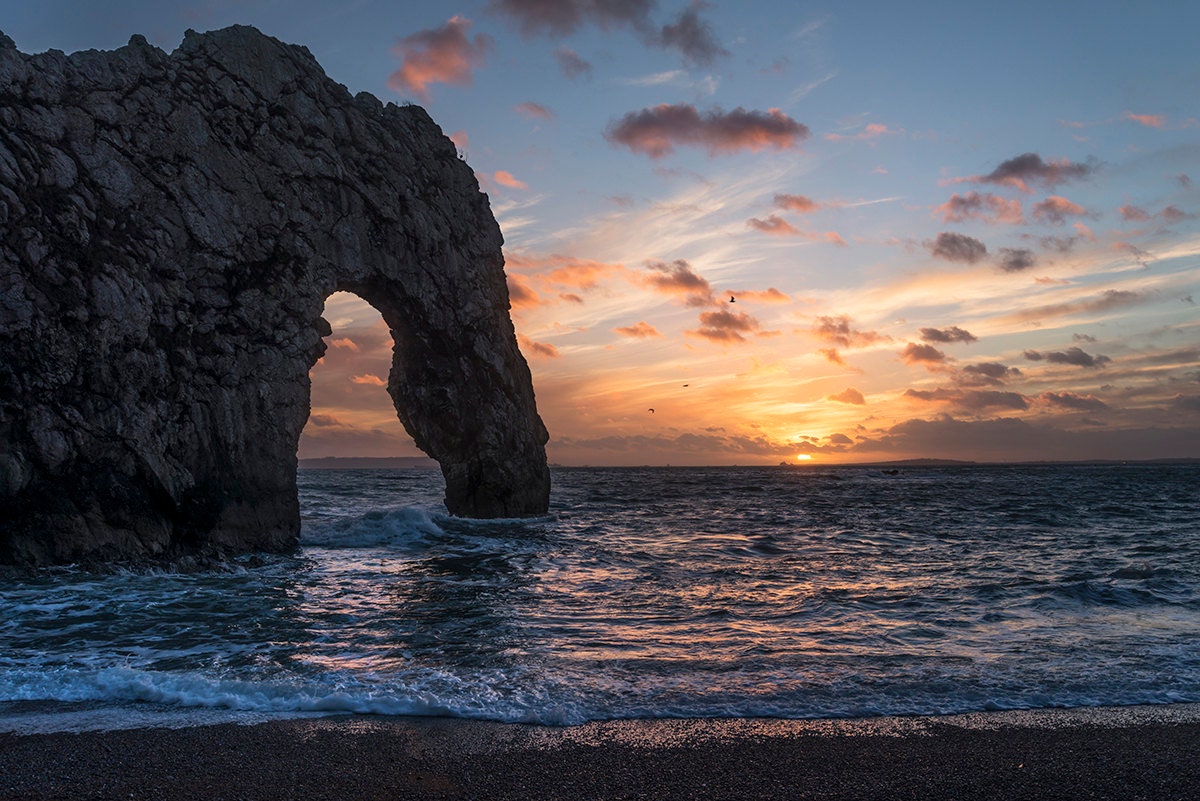 Once i was on the beach i was in awe of the beauty of this incredible rock formation. There was also a real feeling of tranquility and calm which was palpable. I thought to myself this is part of the Jurassic Coastline where millions of years ago Dinosaurs roamed. I really could see this in my minds eye. The sun was starting to go down and the sky was taking on hues of orange, pink, purple and blue. I took advantage of this and began to take some pictures. I wanted to wait for a wave to hit the base of the arch which would make for a better image. The photo above was one of my favourite of the evening as it has all natures elements coming together perfectly. The sun is dipping over the horizon and the delicate clouds are tinged with orange which is being reflected in the water. A single wave is also breaking through the 'Door' of the archway and to top it off a few seagulls are flying past in silhouette. All these elements coming together make an otherwise good picture a great one !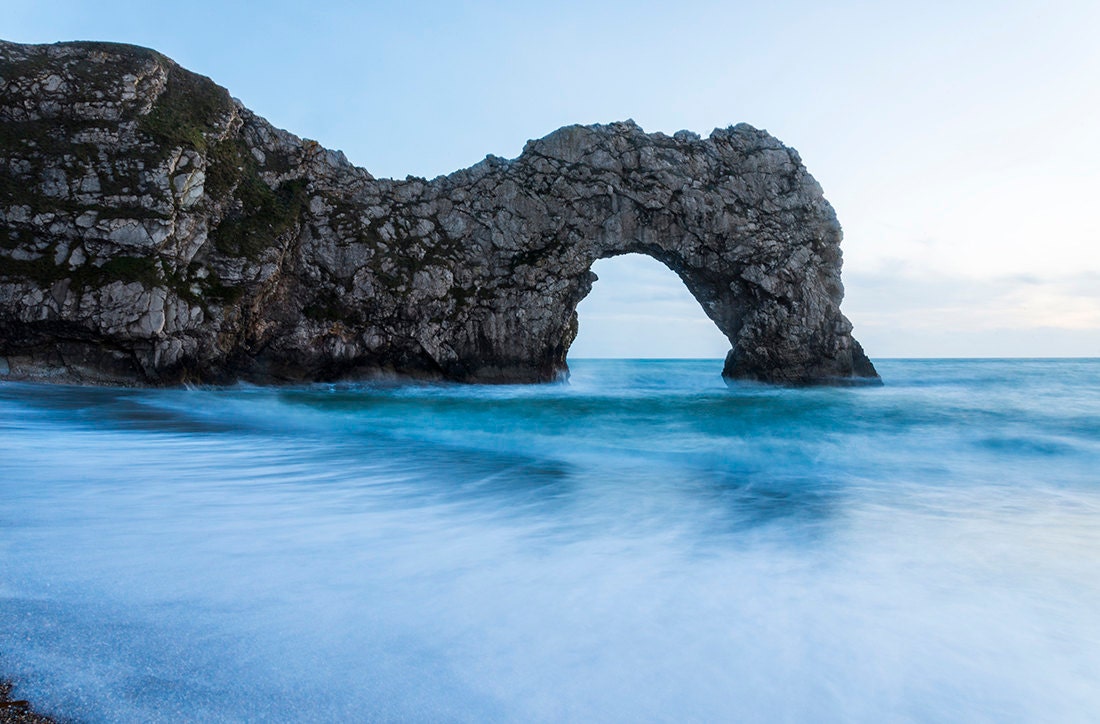 The picture above is another favourite of mine which was taken on another visit to 'Durdle Door' one week later. Notice how completely different it looks to the previous image i took. I used a tripod for this photo as the sun had set and the light levels were diminishing fast. I love to use very long shutter speeds for seascape images as it gives the water an ethereal dream like quality which makes the picture much more interesting to look at. The saturated blueness of the sea has also made for a vibrant scene of this famous rock formation.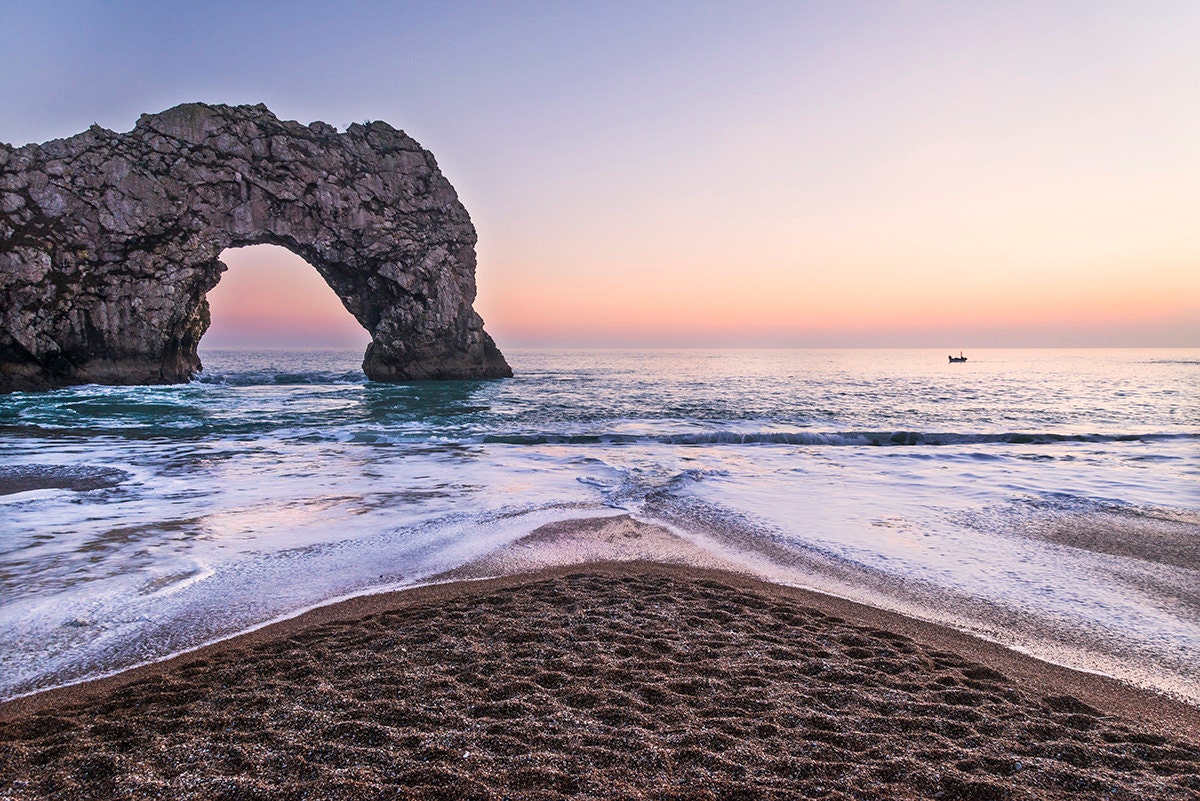 The photograph above was from my third visit to 'Durdle Door'. Again the light and conditions were completely differnt from before. This time the scene had a romantic fairytale feel about it with the sky displaying a soft pink / purple colour.  A small fishing boat is motoring past and the curved sandy shoreline seems to mirror the curve on 'Durdle Doors' rocky arch. It all makes for a wonderful atmospheric picture. Persistance and patience always pay off when making memorable pictures !  visiting the same location several times gave me the opportunity to capture three very different looking images of the same scene. Nature had provided different moods for me to experience and record and most importantly of all enjoy !
get yourself down to 'Durdle Door' and soak up the spiritual energy of this famous site. To avoid the crowds go visit on a weekday or even better in the winter months.
These stunning Durdle Door photographs can be purchased as limited edition prints in my shop gallery under 'Seascapes'.